Sodom is Luka Crosszeria's familiar. He appears as either a black dragon, a teenage boy with tanned skin, black hair and amber eyes or at his full power a black wolf-like creature.
Relationships
Edit
Sodom is very loyal to Luka. It may not seem like it, but Luka truly cares for Sodom as he is seen by Yuki- watching over Sodom as he plays with a butterfly.
Sodom likes Yuki and often hangs around him. He says things such as " I love you Yuki !" and often makes comments that most of the time, cheer Yuki up.
Other characters
Edit
He doesn't have major issues with any of the other characters although he did attack Luze's familiar on Luka's orders.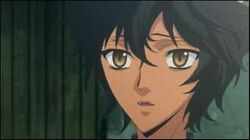 Ad blocker interference detected!
Wikia is a free-to-use site that makes money from advertising. We have a modified experience for viewers using ad blockers

Wikia is not accessible if you've made further modifications. Remove the custom ad blocker rule(s) and the page will load as expected.